Destination Pillows

Exclusive for YOUR Store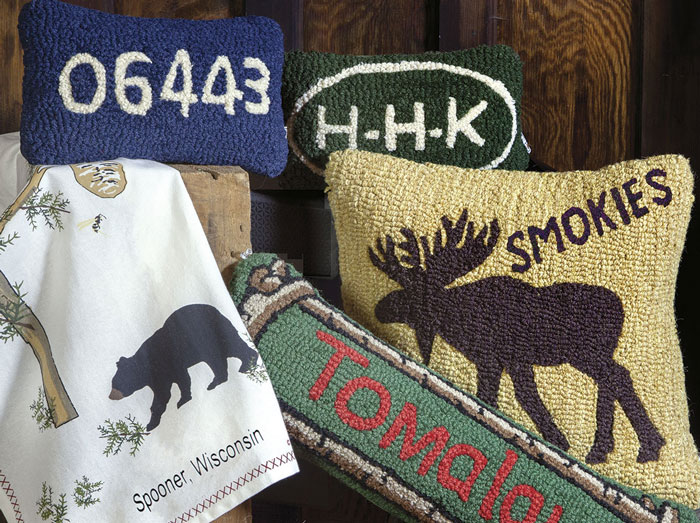 A Fantastic Sales Opportunity Our customized program features low minimums, lower pricing, and easy ordering to allow almost every retailer to have their own destination-named product.
Your Destination. Their Memories. Visitors, second-homeowners, and locals will love a beautiful keepsake to remind them of a wonderful place and time. Just drop the name of a region, town, nearby mountain, river, lake, bay, or any other area attraction on a pillow or towel.
Brochure and Program Information For Lumbar and 18" pillows as well as an overview of the Destinations program, please download the Destinations Brochure
For the Destinations program for our NEW Spotlight pillows and Kitchen Towels, download the NEW Spotlight and Kitchen Towel Brochure
Ordering is as Easy as 1-2-3! We have many designs to choose from with low pricing and minimums. Contact Carolyn with any questions at 1-800-239-5137 or email her.
Destinations Kitchen Towels
Sell More When You Customize!
Add your destination for the perfect gift for your customers! Visitors, second-homeowners, and locals alike love being reminded of their special places and memories.
It's so easy!
All we need is your destination, choice of kitchen towel, font to use, and a quantity to get your order going. Turn around is as little as 6 weeks!.
Download our order form and email or fax back in. Contact Carolyn with any questions at 1-800-239-5137 or via email.
Destinations Kitchen Towels features
100% cotton material with quality screen printing
Wide choice of lifestyle designs to fill all needs
Up 20 customized characters with 6 font choices
Low minimum order of 4 dozen (per design)
Great pricing, as low as $5.25 each
Come see all our latest designs!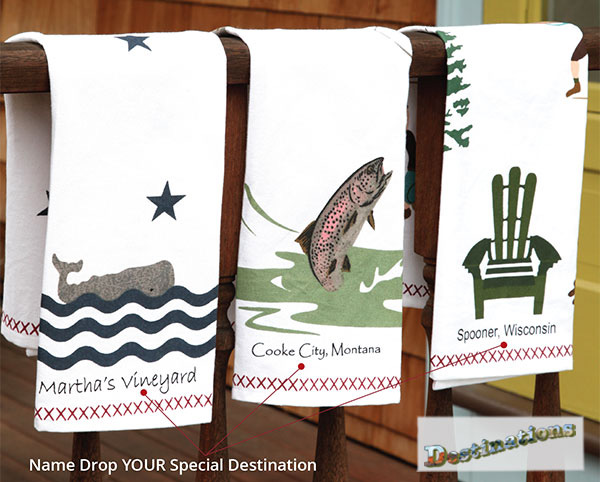 Destinations is a Hit!
Join These Excited Retailers
I need Mt. Bachelor pillows! They are flying out of here!" – Bend Bungalow, Bend, OR
"Can't wait to get re-order of Hamilton pillows. Hamilton college parents & kids just love them." – Ali-linz Home, Clinton NY
"What if I re-order the map rugs that we did last fall? How long would that take? I have had a huge run since we opened at Easter and am running low already!" – Beach Plum, New London, CT
"Everyone in Avalon is so mad that I have Stone Harbor pillows (next town over) but I don't sell AVALON pillows. They can't understand that I ordered double of the AVALON pillow, and that I am just sold out and am waiting for the reorder." – The Preppy Palm, Avalon, NJ
"The DELBARTON pillows we ordered for our school fundraiser sold so well, we had to sell the sample! And even then some folks had to leave disappointed." – The Delbarton School, Denville, NJ